Feb 4 - March 4, 2021 : 6:30-8:30pm CST
Thursdays
~~~~~~~
These unprecedented times call for creative connection amongst us humans and our earthly home.
The Work That Reconnects offers practices to reawaken our innate bonds with each other and our sacred living Earth to guide us in the Great Turning toward a life-sustaining future. Originating from root teacher Joanna Macy, the Work That Reconnects draws on ancient spiritual traditions, deep ecology, and system thinking–and more recently, anti-oppression work.
In this 5 week series, we grow our resilience in these uncertain times through moving as a group through the Spiral of the Work That Reconnects. We begin with grounding in Gratitude, then Embracing Emotion/Honoring Our Pain, Seeing with New Eyes, and Going Forth with Active Hope.
To support the integration of these experiences into our bodies, we will weave embodied restorative practices into the Spiral including Somatic Restorative Yoga, Energization Exercises, guided meditations & earth connecting movements.
May this time connect us to our ancestors and descendants in "Deep Time."
May this time honor both silence and sound; both stillness and movement.
May this time honor the diverse perspectives of the group. 
May this experience nourish and refresh our spirits and bodies.
----------
This course includes 5 live weekly virtual gatherings and self-guided practices which will be recorded for later viewings.
There is a 25 person limit on this course.
"To be alive in this beautiful, self-organizing universe -- to participate in the dance of life with senses to perceive it, lungs that breathe it, organs that draw nourishment from it -- is a wonder beyond words." 
― 
Joanna Macy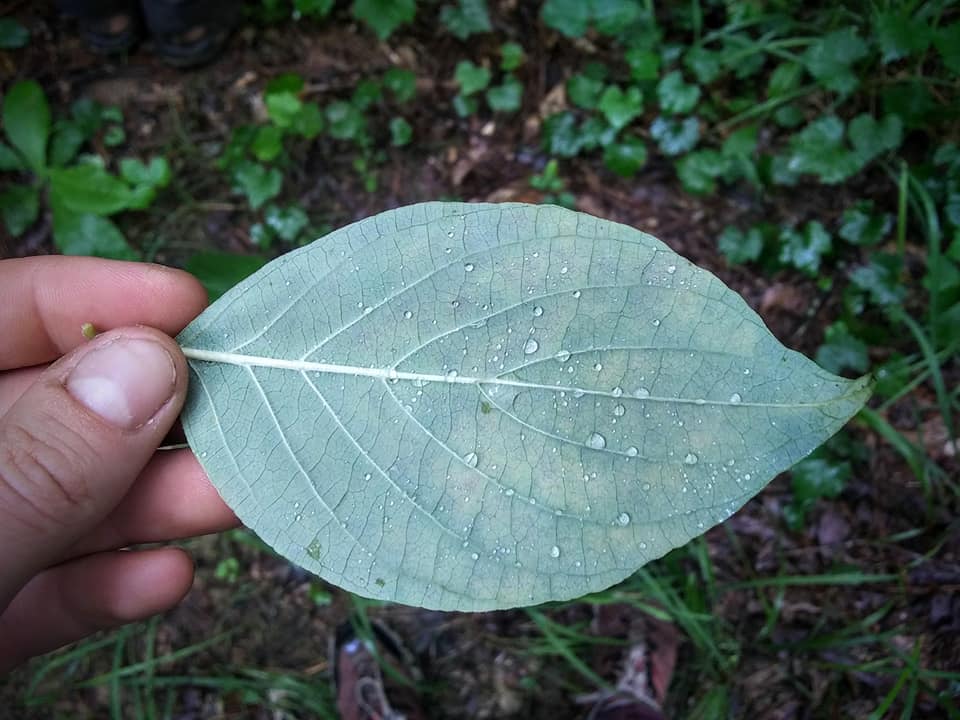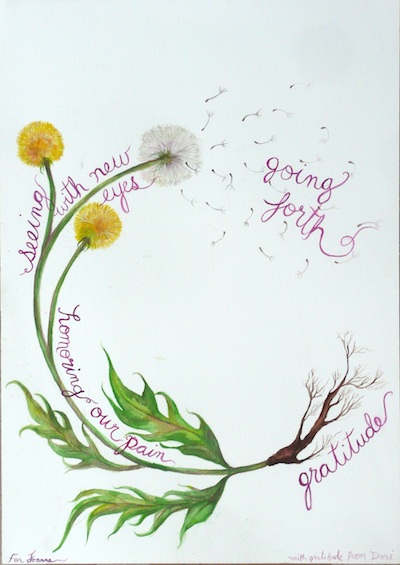 Group Work With The Spiral
The Work That Reconnects unfolds as a spiral journey through four stages: Coming from Gratitude, Honoring our Pain for the World, Seeing with New/Ancient Eyes, and Going Forth. Each of these stages leads naturally to the next. The journey helps us experience first hand that we are larger, stronger, more creative – and more deeply interconnected – than we knew.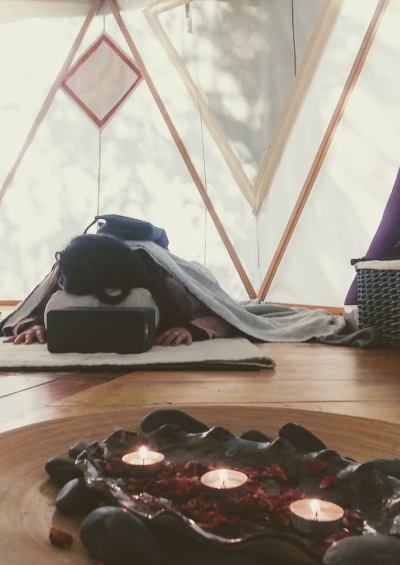 Embodied Restorative Practices
At home restorative, somatic , energetics and meditative practices will be supported and facilitated with easy to follow instructions on how to use alternative props found in the home. All levels of experience welcome.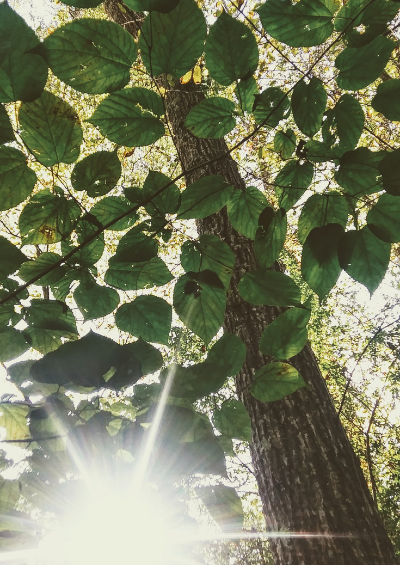 Connecting to Earth
Self guided practices will be weaved into this virtual experience to connect with our Earthly surroundings whether in an urban, suburban or rural environment.
We acknowledge that beneath the broad use of the term "embodiment" are practices belonging to ancient lineages and traditions that have been appropriated by Western models. We are actively working to illuminate the origins of these practices as part of our commitment to social justice work.
What is Somatic Restorative Yoga?
Soma means "the living body" and somatics refers to practices of being in dialogue with the living body. The first way we experience the world is through sensing our whole body. It's the most primal form of inner communication that directs all thought, feeling, and action. We explore these practices as a means to embody. To embody, means to manifest – to make visible, tangible, and real.
The word 'soma' originated from Thomas Hanna, founder of Hanna Somatics, which he defined as experiencing the body from within, and the study of the body through a personal experiential perspective. The mind and the body are not separated but experienced together, wholly. It is the absence of effort.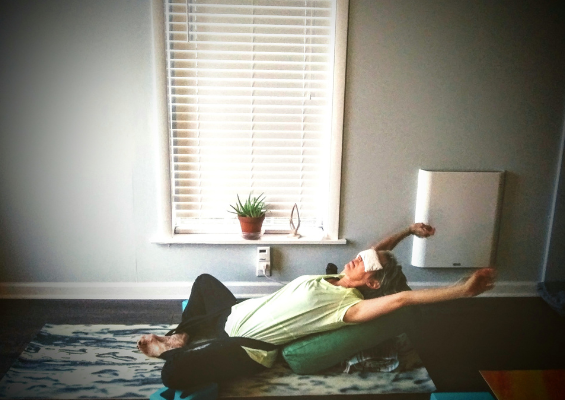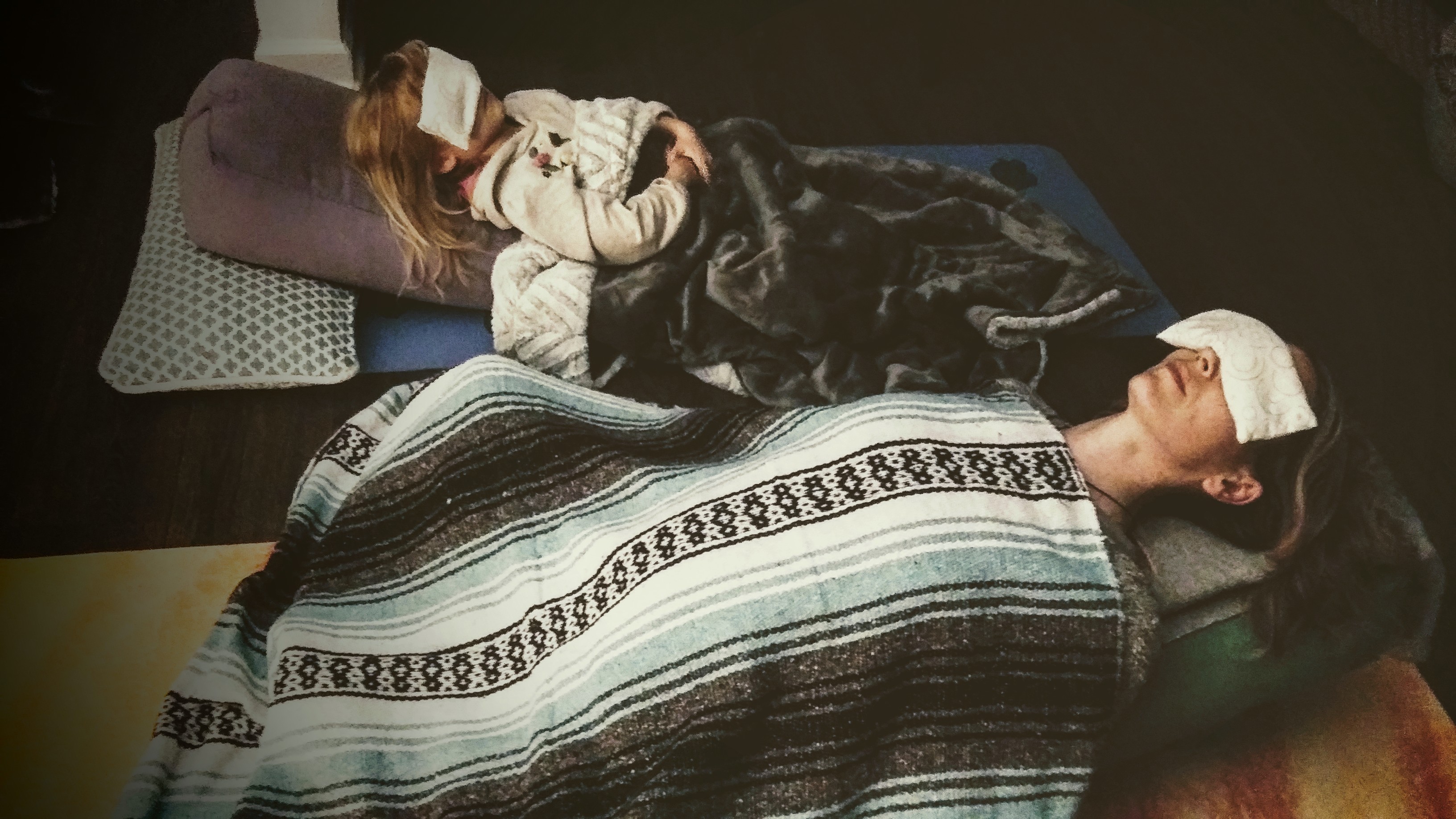 Restorative Yoga, also known as the "Rest and Digest", practice originated from the teachings of B.K.S. Iyengar. One of Iyengar's senior teachers, Judith Lasater who popularized Restorative Yoga in the U.S. calls it "an active relaxation."
Through long-held, prop supported postures, this practice teaches that even though a pose appears to be still, there is a subtler action going on that involves a symphony of breath and body that brings the entire being into a state of deep repose and release. With support, energy is received, tension is released, circulation is improved without the need to expend great energy.
The difference between restoration and somatics is sensing through stillness verses sensing through movement. In this course, we will integrate the two into a somatic-restorative sequence. Each has an effect on the inner body through the nervous system but Restorative Yoga is influenced by joint position and props, and somatics is influenced by both proprioception (when we perceive where we are in space) and interoception (sensing within) through slow, fluid movement of the body.
What are Energization Exercises?
Energization exercises created by Paramhansa Yogananda offer increased energy, an awareness of its flow in the body, and a sense of well-being. Sessions led by Jasper are inspired by the Energization Exercises created by Yogananda as well as various teachings from the yoga lineage.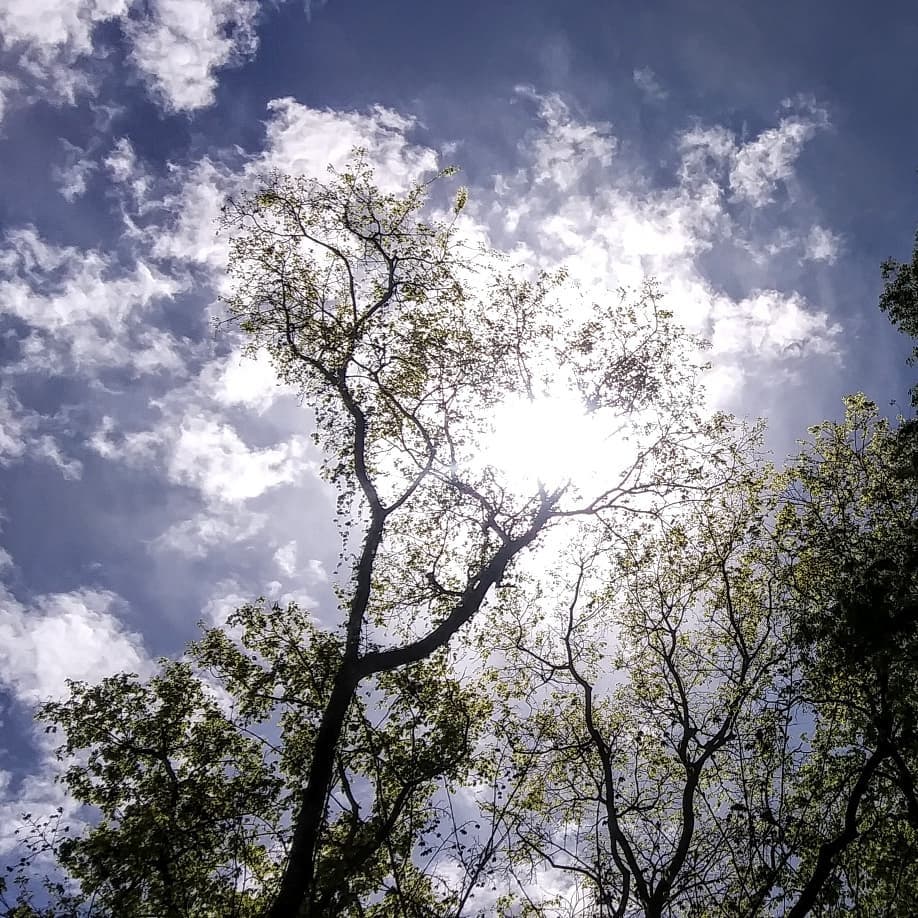 Lydia is a Work That Reconnects Facilitator and 200hr yoga instructor through Here Now Yoga with additional training in somatic-restorative yoga.
Her passion, during this unprecedented time on earth, is to guide others in discovering ease, wonder and connection with their bodies and to remind them of their birthright to joy and comfort, especially through personal and collective crisis. 
Her vision is to contribute to the WTR community a practice of blending the Work That Reconnects with somatic, restorative practices to support the completion of stress cycles and emotional exhaustion processed during group work.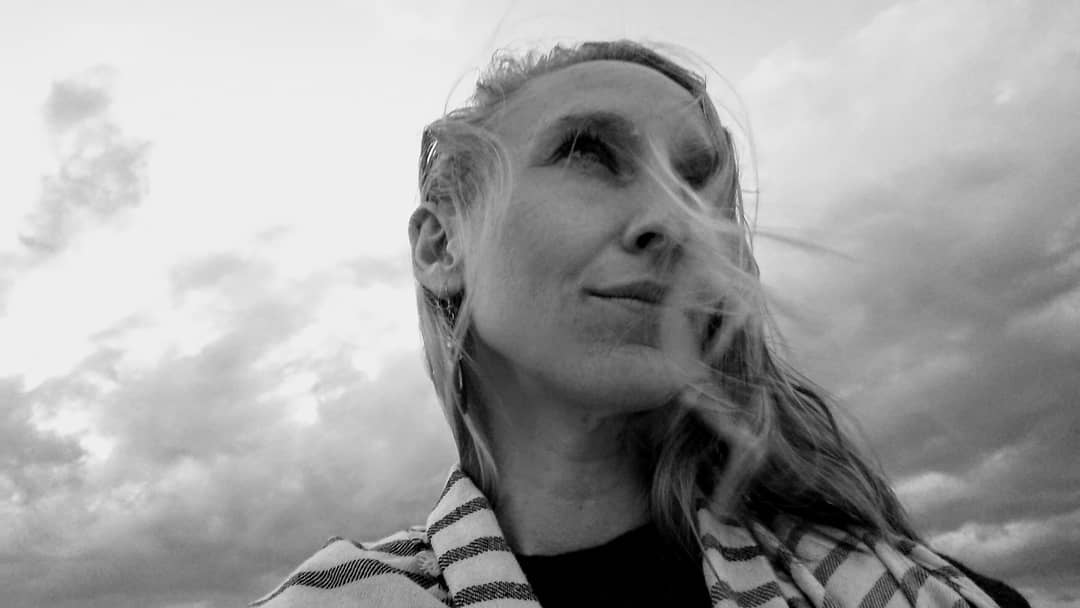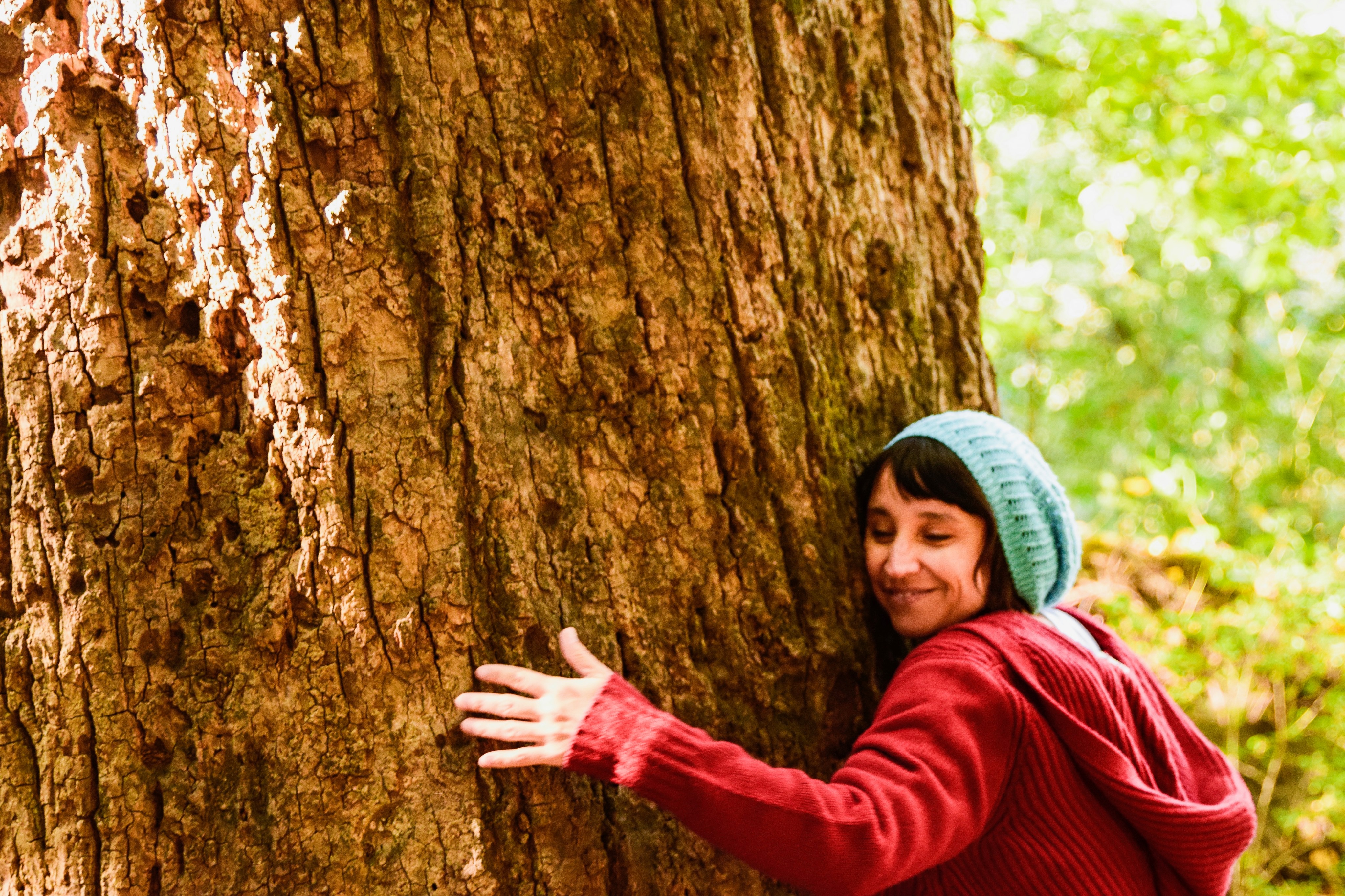 Jasper is a certified Ecotherapy guide, Yoga & Mindfulness Teacher, Bodyworker , Reiki Practitioner and leader of the Alabama Earth Church Community. She has spent the past 18 years studying various forms of alternative healing.
Her love for the Earth and a deep desire to help others connect to Gaia led her to study with the Earthbody Institute where she was first introduced to Joanna Macy's The Work. Since then she has led several in person workshops and uses The Work to help inspire the Earth Church Community to take action as stewards for our planet. Jasper dreams of being a part of a collective community of humans with a shared vision of a sustainable and equitable place for all of Earth's creatures to call home.
Dates for live sessions are every Thursday from Feb 4-March 4 2021
All Dates: February 4, 11, 18, 25 & March 4th.
6:30-8:30pm CST
**25 Person Limit**
Registration:
We know that financially our world has far to go in pursuit of equity. We have structured our registration system for this course accordingly, with tiered tickets that can be purchased according to self-assessed access to funds. All funds go towards paying all teachers and tech support a fair, livable wage, as well as subsidizing our scholarship fund for the next "Deep Resilience" course.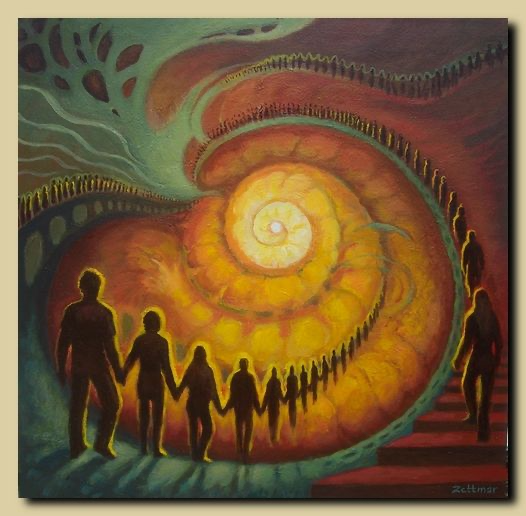 "Coming Together" by Kerstin Zettmar
Artist Kerstin Zettmar was born and raised in Sweden, holds dual citizenship and lives and works in Newport, RI, USA. Besides being a visual artist, she is self employed in the Holistic Health field. 1990, she founded MIRA Holistic Services, as a container for various modalities, such as; Rosen Method Body/ Soul work, Expressive Art, Yoga, Hypnosis, Past Life Regression, Therapeutic Massage, and different workshops connected to health, creativity and consciousness. 
To contact Kerstin you can e-mail : [email protected] or look her up on Facebook or Instagram. To view more of her artwork visit www.kerstinzettmarart.com & www.miraholisticservices.com.
Frequently Asked Questions
Do I have to have a certain level of experience with yoga and/or somatics or restorative practices to participate?
No. All levels are encouraged to join!
I don't have any yoga props at home. Can I participate without buying props?
Yes, absolutely. We will provide an alternative prop list and instructional video to support everyone at home making this work!
When does the course start and finish?
The live portion of this course runs from Feb 4 -March 4 2021, Thursdays, 6:30pm-8:30pm CST and you will have lifetime access to the readings and recordings!
How long do I have access to the course?
How does lifetime access sound? After enrolling, you have unlimited access to this course for as long as you like - across any and all devices you own.